Aviation Topic of the Week
By Michael Oxner, September 5, 2004




Please note!
This topic was written prior to the North America-wide implementation of RVSM. I intend to rewrite this, but for those who find it now, please be alert to the new procedures associated with RVSM. Transport Canada and the FAA in the US have more documentation regarding the requirements, the rules and the exceptions to operating in RVSM airspace, and the procedures for certification. This document can only be used, at best, for a historical reference to how RVSM *was* prior to January 20, 2005 at 0901z.


This week's topic:
Reduced Vertical Separation Minimum (RVSM)

RVSM is a fact of the current world, and it is soon (as of the time of writing this topic) coming to a sky near you. In fact, it has already entered the skies around many of us. What is it? How does it affect airlines? Let's delve into it.

RVSM History
Equipment Requirements
RVSM Airspace
Future Plans
Exceptions to RVSM


The AIP Canada, RAC 12.16 is the primary reference for this week's topic. Historically, 1,000 feet was the vertical separation minimum for ATC to apply between IFR aircraft at and below flight level 290 (FL290). Above this level, ATC had to apply 2,000 feet of separation, forcing cruising levels to occur at larger intervals. This meant that FL290 was an altitude appropriate for direction of flight for an eastbound aircraft, while the next level above, for a westbound flight, was FL310. Then FL330 for east, FL350 for west and so on. This put airspace at a premium in many areas, but nowhere more so than over oceanic airspace.


ATC can use as little as 5 NM between enroute aircraft in a radar environment. When radar isn't available, ATC must revert to another form of separation. Called "standard" or "procedural", it involves logical "proofs" that aircraft are separated. The proofs are derrived from aircraft position reports and information on their performance which result in reasonable estimates of where aircraft should be at any given time. Because they are only esitmates, it follows that the separation between aircraft must be greatly increased to ensure a level of safety. The separation determined appropriate came down in the form of altitudes, which are easy to figure out, and lateral limits as well as longitudinal minimums.


The systems used for aircraft track guidance had to meet certain Minimum Navigation Performance Specifications (MNPS) in order to allow ATC to use routes of flight to separate aircraft at the same altitude. The resulting separation standards developed meant that the parallel tracks had to be 60 NM apart, since ATC would not be able to radar monitor these flights to ensure separation existed. Sound bad? Just wait.


Longitudinal separation was worse. This is used to prove that aircraft on the same track at the same altitude have enough space between them. It was easy to say aircraft at FL330 and FL370 were separated, and even easy to say that aircraft on parallel tracks were not going to hit. But on the same track, variations in windspeed, aircraft guages and pilot (or autopilot) performance could have an impact on the spacing. Therefore, the longitudinal separation became somewhat gross. 30 minutes between aircraft on the same track at the same altitude was the minimum. Think of it. An aircraft cruising at 480 knots travels at 8 NM per minute. 30*8=240. 240 NM between aircraft! Doesn't that sound like wasted space? Now, there are other provisions which come into play, and tricks which ATC can use to reduce this. For example, I actually mentioned an acronym earlier, MNPS, which is an equipment standard required in oceanic airspace between FL275 and FL405 (thereby including FL280-390) allows reduced distance between aircraft, but it still makes for wasted space on the ocean. Naturally, this meant that aircraft in trans-Altantic traffic flows were often denied desired altitudes just because of when they reached oceanic airspace. They were also denied the track they desired in many cases since invariably, someone else was already there. There had to be another solution.


With aircraft systems improving, it was decided to try to evaluate the accuracy of vertical measurement and guidance systems to attempt to reduce the vertical separation requirement. With such huge spacing requirements, doubling the available altitudes made so much sense in terms of moving air traffic and economy for operators. Requirements were developed, estimations of costs grew, and eventually, operators came to accept RVSM as a financially viable option, even though it meant some large costs for retrofitting older aircraft.


I won't go into huge detail on this subject, since it is really beyond what most of us will ever have to deal with. An aircraft that is to be RVSM certified must have two primary pressure altitude reporting systems, an altitude alerting system and an autopilot certified for ability to hold altitude within certain limits. Certain other restrictions apply to certain other airspaces, such as the North Atlantic Tracks requiring MNPS certification as well between certain levels as mentioned above. Aircraft looking for RVSM certification must also overfly an HMU, or Height Monitoring Unit, at some point during the process. There are currently two of these units in operation. One is located in Gander, NF, and the other is in Strumble, UK.


The AIP provides a diagram of RVSM over Canada in Figure 12.3 in the RAC section. I have scanned and included it here. Please note the date of the information in the scan provided below is October 3, 2003. Have a look: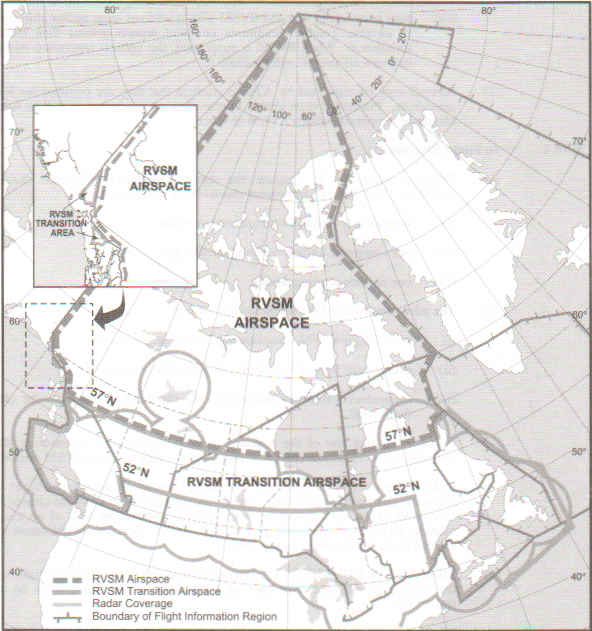 You will note three areas of concern in this diagram. The northern most area is RVSM airspace. The middle area, basically bounded by 57°N and 52°N is RVSM Transition Airspace, and the lower portion is the "normal" airspace. Areas of RVSM Airspace not detailed in the above diagram include the North Atlantic on the right hand side, and the Eastern Pacific region. Certain portions of US airspace are also Transition Areas. The difference?

"Normal" airspace is where the "old rules" apply: 2,000 feet of separation above FL290 as it has been. RVSM Airspace is what we are expecting now: 1,000 feet above FL290. Some don't realize, but RVSM has a ceiling to it. ATC reverts to 2,000 feet of separation again above FL410. Aircraft that are not RVSM certified are not allowed to operate in RVSM Airspace except to climb or descend through it. That part is all cut and dry. RVSM Transition Airspace is a little more complicated.

Non-RVSM certified aircraft are allowed to operate in RVSM Transition Airspace. They are also assigned appropriate altitudes for flight, too, such as FL300 for a westbound aircraft and so on. They are, however, still provided with 2,000 feet of separation between each other, and between themselves and RVSM-certified aircraft. This means ATC has to be aware of which aircraft he can use 1,000 feet between, and which ones he must apply 2,000 feet to. The Transition Areas were designed to allow ATC sufficient time to move aircraft from 1,000 foot separation coming out of Oceanic Airspace to the normal 2,000 feet for other areas beyond, and vice versa.

Most of the milestones in the development of the plans for RVSM have already been reached. The last, the biggest, and the most important one has yet to be reached. As of January 20, 2005, RVSM Airspace will grow again. The plan currently calls for the implementation of RVSM throughout Canada, the US and Mexico. Aircraft not certified for RVSM can continue to operate normally at FL280 and below, and above FL410 (for those who can make it there), but they will no longer be allowed to cruise within RVSM Airspace. Other areas in the world have met certain milestones as well, including Europe and Asia, and more complete coverage for RVSM Airspace is planned for the future in these and surrounding areas as well.

Non-RVSM aircraft will, as mentioned previously, be allowed to operate within RVSM Airspace provided they are climbing or descending through it to or from altitudes in excess of FL410. Also, there will be other exceptions, which may include MEDEVAC flights, military flights on operational missions, and most certainly aircraft experiencing in-flight emergencies. There may also be other, unforeseen events which lend themselves to busting RVSM Airspace. Normal operations, however, will exclude non-RVSM-certified aircraft from operation within RVSM Airspace. Business jets and airliners not RVSM certified will be stuck below FL290 under normal circumstances.

For a look at the RVSM time table from the American perspective, check out this link: http://web.nbaa.org/public/ops/cns/rvsm/timeline.php
In VatSim, all aircraft are considered RVSM certified, and therefore there are no restrictions placed on cruising altitudes within RVSM airspace for VatSim pilots. Simple as that. At the time of writing, I was not aware of any impact of real world RVSM rule changes on VatSim pilots and ATC.

Well, that's RVSM in a nutshell. There are more specifics to it, but this article details the day to day workings and then some. Any comments or questions can be fired my way through e-mail to moxner@nbnet.nb.ca. Thanks for taking the time to read!